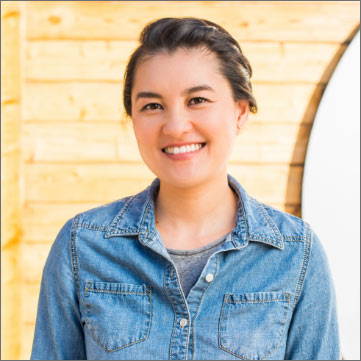 Kim Tran, Director of Culinary Innovation
Culinary operations are led by Kim Tran, Director of Culinary Innovation. Kim has been at the intersection of food and tech her entire career as a head chef at Bon Appetit at Google in Mountain View.
Kim knows the power of food to fuel game-changing ideas and brilliant minds. She's dedicated to creating a food experience that inspires and educates with an emphasis on nutrition and wellness. Kim is a perfect blend of art and science. She's professional, kind and intensively smart.
Kim has an education in kinesiology and culinary arts. She's our expert in crafting high-performance menus that are delicious and well-balanced for enhanced cognition and the energy to power through long workdays solving complex business problems.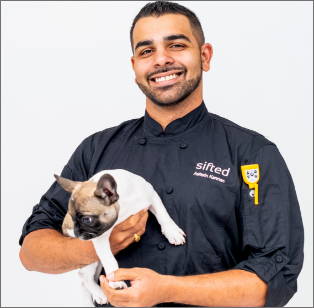 Ashwin Kannan, Regional Chef
Ashwin has worked as head chef at prestigious locations all across Atlanta. "I have really worked in every area of the food industry from sports bars to fine dining," says Chef Ashwin.
Born in Bombay, India, Ashwin and his family came to the United States in 1988 and made Atlanta their home. Always a hard worker, Ashwin said that he got his first job at 15 and has kept working ever since.
Notably, Ashwin held a position at one of the world's largest food companies, where at only 24 years old he became the youngest chef manager in the entire company. "I really came into my own. It was a great experience and I learned a lot about corporate culture and about customer service in the corporate world," Ashwin said. Finally, in summer 2018, Ashwin found his way to Sifted which he says is the most rewarding job he's ever had.
OUR MANAGING CHEFS - LEADING THE CULINARY REVOLUTION

They come from fine dining and five-star hospitality, and now they are leading dynamic kitchen teams all over the country. They are Sifted's elite crew of Chefs. They blend craft and science to bring your family fresh menus that are packed with as much nutrition as they are flavor. From bottling their own hot sauce to growing their own food, our Chefs each bring a unique passion and set of talents to the Sifted team. We're purpose built, and they build meals with purpose.

✕